AUDIO & VIDEO CONTENT
(Partial List)
2017
The Honorable Paula Stern will be the keynote speaker a July 27, 2017 Conference on Renegotiating NAFTA to be held in the Former Senate Headquarters in Mexico City. The Atlantic Council's Adrienne Arsht Latin America Center is working on a new three-country report – United States, Canada and Mexico – to highlight the importance of NAFTA to the North American economy just as negotiations begin. This public event aims to generate a substantive, wide-ranging discussion on the strategic and economic implications of NAFTA renegotiations. It will highlight the decades long diplomatic and commercial collaboration that has produced a stronger, freer trilateral marketplace yielding a more competitive North America.


Atlantic Council, "The Retreat of Western Liberalism – A Fireside Chat with Edward Luce" June 14, 2017. Introduction by Paula Stern.

Center for Strategic and International Studies panel, "Cross-Border Data Flows and Digital Trade Post-TPP" Question to the panel with regards to timing with respect to NAFTA renegotiation and the U.S. trade agenda vs. Chinese/RCEP for the future of global rules-setting". April 6, 2017

Atlantic Council panel, "Keeping America's Innovative Edge" Question to the panel on how the workforce shortage in computer science can be solved by improving the K-12 curriculum and improving the existing toxic culture experienced by women in the digital workforce. April 4, 2017

Council on Foreign Relations panel, "Automation, Job Loss, and the Welfare State" Question to the panel about the Computer Science for All initiative making computer science a priority in K-12 education in every state. March 30, 2017
The video can be reached here with my comment at 41 minutes.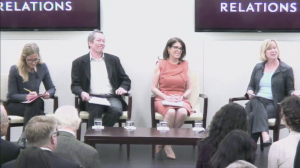 Bipartisan Policy Center panel, "Expanding the Benefits of North American Energy Trade" Question to the panel on the political role of the energy industry during upcoming possible NAFTA negotiations. March 23, 2017
The video can be reached here with my comment at 45 minutes in the second panel.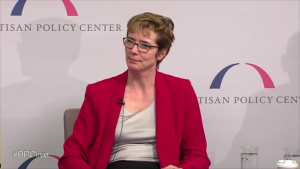 New America panel, "What's Next for STEM Education" Question to the panel about possible resource fight within education given the decreasing resources and increasing demand for computer skills in the job market. March 16, 2017

Atlantic Council panel, "US-Mexico & Canada Trade Ties: What's the Way Forward?" Topics included the Trump administration's trade policy, the North American Free Trade Agreement (NAFTA), and that week's diplomatic trip to Mexico by Secretary of State Rex Tillerson and Homeland Security Secretary John Kelly. February 22, 2017.
Links to CPSAN coverage and video of the event as well as the Atlantic Council's summary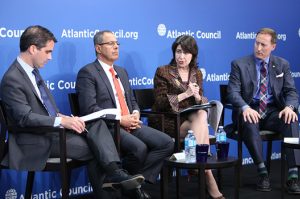 March, Act, and Make an Impact symposium. "Women in Tech: The Final Frontier" January 20, 2017.

The U.S. Conference of Mayors Winter Meeting. "Art of the Deal: Playbook to Renegotiate NAFTA into a Great Economic Bargain" Speech to the Ports and Exports Task Force. January 19, 2017

2016
The Brookings Institution. "Technology Policy in the Trump Administration," Questions to the panel about computer science for all and diversity in the tech sector under the incoming administration. December 14, 2016.

Committee for Economic Development. "Women in Public and Private Leadership," Comments to the panel about public vs private leadership opportunities for women and innovation payoffs from diversity investments. November 16, 2016.

BBC Business News, interview on renegotiating NAFTA, Paula Stern, November 16, 2016.

Washington Center for Equitable Growth. "Fighting the Next Recession," Question to former Treasury Secretary Larry Summers on President Elect Trump's trade policy. November 15, 2016.
Council of Foreign Relations (CFR). "A Conversation with Representative Adam Smith," Question to Adam Smith, Ranking Member, House Armed Services Committee (D-WA). See: 40:30-43:30. November 16, 2016.
Council of Foreign Relations (CFR). "The Future of US Trade Policy," Question to panel on The Changing Context for Trade, to Professor of International Trade and Investment and at the Harvard Kennedy School, Robert Z. Lawrence, and to Chairman and CEO of General Electric Company, Jeffrey R. Immelt. September 28, 2016
New America Foundation (NAF). "Trade, War, and China in the 21st Century," Question to author Christopher Gopal (50:17). September 21st, 2016
Dr. Paul London, "Brexit in its Post-World War II Context," August 15, 2016, presentation to the American Institute for Economic Research (AIER) 2016 Summer Fellowship Program, https://www.aier.org/events.
Commentator, "Marketplace Morning Report for Tuesday," — NPR. Quoted at 6:07 – 6:23 and 6:41 – 6:59 in regards to how Brexit will affect lawyers. June 28, 2016.
Council on Foreign Relations (CFR). "Conversation with Jason Furman." Question to Jason Furman, President Obama's Chairman of the Council of Economic Advisers (34:35). July 20, 2016.
Panel Participant, 2016 Global Forum – International Trade & Politics: Implications for 2016 and Beyond, Panel 1: "Trade Shifts and the Future of the Trans-Pacific Partnership," hosted by Atlantic Council and Baker & McKenzie, Mexico City, May 19, 2016
The Atlantic, "Atlantic Exchange Event featuring eBay President & CEO Devin Wenig," Question to Devin Wenig. April 29, 2016
The Atlantic Council, "Unlocking the Potential of US-India Trade" Question to Senators Mark Warner, John Cornyn, and Indian Ambassador Arun Singh. April 25, 2016 at The Atlantic Council.
American Enterprise Institute (AEI), "A Labor Market for the Digital Age: Pathways and Opportunities" Question to the panelists on behalf of NCWIT on Computer Science for All. April 4, 2016 at AEI.
Council on Foreign Relations (CFR), "U.S. Environmental Regulation After the Paris Climate Talks: A Conversation with Gina McCarthy," Question to Gina McCarthy. January 7th, 2016
2015
Panelist, "Taking the Lead: Women, Technology and Policy," Wilson Center, Washington, DC, October 29, 2015
Panelist, "Panel Discussion on Women Technology and Policy: Leadership in Private and Public Sectors," Woodrow Wilson Center, Washington DC, October 29, 2015
CCTV News, "Central China Television's World Insight Program", July 21st, 2015
2014
Speaker, "National Journal's Through the Ceiling: Empowering Women in 2014 and Beyond," Washington, D.C., September 10, 2014
At Paula Stern's invitation, Chelsea Clinton spoke May 21, 2014 to the 10th anniversary summit of the National Center for Women and Information Technology. (NCWIT).
2013
Speaker, "Toward North-Atlantic Free Trade: A Discussion With Paula Stern," French-American Foundation, New York, NY, June 7, 2013
CCTV America, "EU-China Solar Panel Dispute," June 4, 2013
Speaker, "Women's Economic Empowerment," Committee for Economic Development (CED) Meeting with delegation from Keizai Doyukai (Japan Association of Corporate Executives), Washington, D.C., May 13, 2013
Panelist, "Resiliency: Successful Directors and Corporations Looking Beyond the Next Quarter," WomenCorporateDirectors (WCD), JPMorgan Chase, New York, NY, May 1-2, 2013
CCTV America, "China and Australia's new pact," April 10, 2013
CCTV America, "New Opportunities For Economic Ties China-US Ties," March 14, 2013
CCTV America, "China-U.S. Trade Volume Statistics,"February 11, 2013
Public Comment, "President's Council of Advisors on Science and Technology (PCAST)," Washington, D.C., January 4, 2013
2012
Speaker, "Technology Driving the Future of STEM," Department of Defense Diversity STEM Summit, Washington, D.C., November 1, 2012.
Speaker, "Leadership in a Complex and Changing Global Arena," NACD Board Leadership Conference, National Harbor, MD, October 16, 2012
Speaker, "Opportunities for US-EU Trade and Investment Cooperation," European Union Parliament, Brussels, Belgium, March 21, 2012
Keynote Speaker, "US-China Cleantech Trade Friction," Bloomberg New Energy Finance Summit, New York, NY, March 20, 2012
Speaker, "Fostering Women's Empowerment – Your Path Forward," Computer Science Corporation, Falls Church, VA, March 15, 2012
2011
Speaker – Trade Expert, "An Historical Perspective on Trade Reorganization Proposals," National Foreign Trade Council (NFTC), Washington, D.C., January 20, 2011
Speaker, Indonesian Chamber of Commerce (Kadin), Jakarta, Indonesia, November 25, 2011
Panelist, "Trade and Business in the New World Economy: Asia," WomenCorporateDirectors ( WCD), Asia Society, New York, NY, November 7, 2011
Participant, "Jobs and Economic Competitiveness," White House Business Leaders Forum, Washington, DC, November 4, 2011
Convener, "21st Century Pathways to a Skilled Technology Workforce," National Center for Women & Information Technology (NCWIT), Woodrow Wilson Center, Washington, DC, October 13, 2011
Speaker, "Gridlock and its Economic and Foreign Policy Complications," Lafarge International Advisory Board Meeting, Paris, France, June 20, 2011
Moderator, "Free Trade Agreements: Strengthening ties within the Western Hemisphere," Congressional Hispanic Leadership Institute briefing, Washington, DC, June 15, 2011
Participant, "Economic STEMulus: Promoting Diversity and Excellence in the Future of American Innovation and Competitiveness," Congressional Black Caucus Taskforce on Economic Development and Wealth Creation, hosted by Rep. Maxine Waters (D-CA) and Rep. Yvette Clarke (D-NY), Washington, DC, May 26, 2011
Interview, Press TV with Colin Campbell, "The Widening US Trade Deficit," February 12, 2011.
2010
Speaker, "Implications of the U.S. Midterm Elections", Lafarge International Advisory Board Meeting, Mombassa, Kenya, November 26, 2010.
Participant, The China Sustainable Trade Strategy Project Meeting, sponsored by the International Institute for Sustainable Development and the Development and Research Center, State Council of China, Beijing, China, November 12, 2010.
Panelist, "The International Trade System: Facilitating More Productivity, Efficiency and Inclusion", International Policy Forum: Global Governance and Sustainable Economic Development, hosted by Bertelsmann Stiftung and the China Center for International Economic Exchanges, Beijing, China, November 10-11, 2010.
NBC 4, 11:00 AM News, Washington, DC, July 21, 2010
Panelist, "The Structural Changes Needed in the United States: What Do We Have to Change to Bring Back Manufacturing?", Conference on the Renaissance of American Manufacturing: Supporting the Manufacturing Industry in the U.S.A, the National Press Club, Washington, DC, September 28, 2010,
2009
Panelist, Inaugural Black Sea Energy and Economic Forum, "Mitigating Energy Risks: The Business Perspective", Bucharest, Romania, September 30-October 2, 2009
Inter-American Dialogue video, "From the G-20 Summit," April 2, 2009
Panelist, U.S. Chamber of Commerce, "American Competitiveness & the State Owned Enterprise", Washington, DC, July 7, 2009
2008
Atlantic Television News, "American Dream," Washington, DC, October 22, 2008
Panelist, Global Subsidies Initiative Regional Media Forum, "Fueling Hunger in the Middle East – Biofuel Subsidies Drive Food Price Inflation," Alexandria, Egypt, April 17-19, 2008
Atlantic Television News, "American Dream," Washington, DC, January 28, 2008